Are you searching for any ways to use amazon prime video for free? Then congratulations! Because today we are sharing amazon prime video cookies for free. I personally use this cookie to watch prime videos for free.
Today I am going to teach you a step-by-step method so that you can use a prime video account for free on your android and computer. I am writing this post for both a techy person and an average person like my brother so that anyone can use it without any hustle.
Now, before going to our main topic, let's get some knowledge about an Amazon prime video Cookies prime membership.
Amazon launched its Internet Video On Demand service on December 14, 2016. Prime Video is an online video streaming service that provides thousand and millions of movies, tv-shows, web series, and cartoons. But to access all of this great stuff, you have to buy their premium membership, which costs around $12.99/month or $119/year.
By becoming a prime member, you will get lots of facilities from Amazon prime video Cookies like one-day delivery, special discount on products, and first access to any deals.
But today, we will give you amazon prime video cookies for free. These cookies are 101% working, and we update them every hour
Amazon Prime Video Cookies
So, below, we are sharing free Amazon prime video Cookies that are easy to access, easy to use, and most importantly, you can now use a prime membership account for free.
We are updating these cookies every hour to make sure that you must get working cookies. If you found any cookies dead/not working, then comment down also, you can message us on our live chatbox.
Note: Don't log out after using cookies! Logging out from your system makes it dead!
Note: If the above cookies do not work, then you can create your own Prime Video account for free using a trick that I shared on the telegram channel.
You can copy fresh and working prime video cookies from the above table.
But keep in mind that after using cookies, either the direct close window or close that browser. Never log out from that account. This makes cookies expired, and you may have to wait for new working prime cookies.
Also, read Free Amazon Prime Account
What are browser cookies? How do they work?
So, to use Amazon prime video Cookies, you must have knowledge about what cookies are? and how it helps to access premium account.
Cookies are the smallest part of data that stores User credentials like username, password, and IP for a specific time on the client's computers/mobile. These cookies work as your identification card, which means the server identifies the user with the help of these cookies.
For example, you may notice that many sites like Facebook, Gmail, or Instagram want access to your cookies. After allowing access, we didn't need to enter the username and password each time we are logging.
Storing login credential in cookies saves time and provide a better user experience. Also, the user doesn't get frustrated by entering the username and password again and again.
So eventually, we are using these cookies to log in to the Amazon Prime account for free.
These cookies are server-based; that means whenever a user logout from the Prime video account, cookies will expire.
How to use Amazon Prime Free Membership
Now, you may have a question that how can you access the premium account using cookies?
Here, we are sharing the access method for desktop as well as for mobile. This method is free of cost, and you don't have to pay for any extension we are using in this tutorial.
How to Use Amazon prime video Cookies Using J2Team Cookies On PC [Working]
As I already said, the Amazon algorithm is continuously updating to prevent prime video account piracy.
Today I tried to log in to one of my prime video accounts using the EditThisCookies extension, but it didn't work.
Hence, I am sharing a new method to use Amazon prime video Cookies on pc. We are using the J2Team cookies extension for this.
Step 1: Go to google and download J2Team cookies. Or you can directly download it from here.
Step 2: Now Download prime video cookies from the above table. You have to choose whether you want cookies for Desktop or mobile.
Step 3: After downloading the cookies file, you will require a secret code to access it. For it, click on the copy code button, and the code will copy to your clipboard.
Step 4: Now head towards the PrimeVideo homepage and click on the J2Team cookies extension. Be sure that you type URL correctly otherwise cookies not gonna work.
Step 5: Paste your copied code in the password box. Click on the Import option and choose the latest downloaded cookies.
Now, it will shows 'Done' confirmation. Refresh the webpage, and you are ready to use a free prime video account.
Note: This trick works better on the desktop. For mobile phones, you can J2Team as well as EditThisCookie to use a free prime video account.
How To Use Amazon prime video Cookies On Desktop [Expired]
We already know that cookies are a small part of data that contains login details and which stores in the user system to keep a user logged in to the server site. The same is with amazon's free membership 2021 cookies.
We are now using this cookie to user Prime account for free on chrome/firefox. The extension required for both browsers is the same.
Step 1: Open your chrome/firefox browser and search for the EditThisCookies extension. Or you can directly go to the extension page from here.
Step 2: After that, click on Install. It will open a popup for confirmation. Click "Add extension" and install the EditThisCookies extension on your chrome/firefox.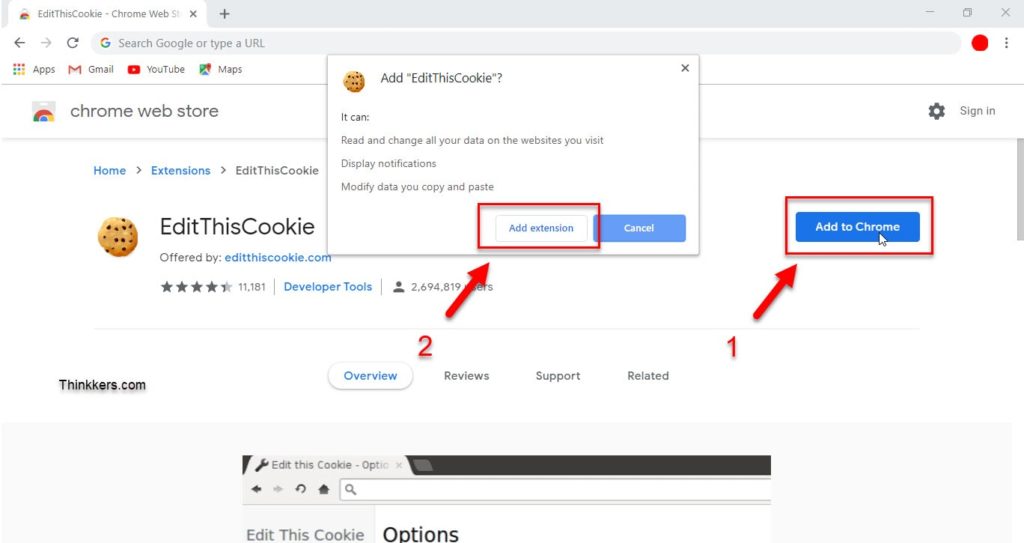 Step 3: Now download Working 2021 amazon prime video cookies and copy all text from the file.
Step 4: Open chrome/firefox and open the Prime video homepage. Then head towards the extension. You will find the EditThisCookies extension there. Click on it.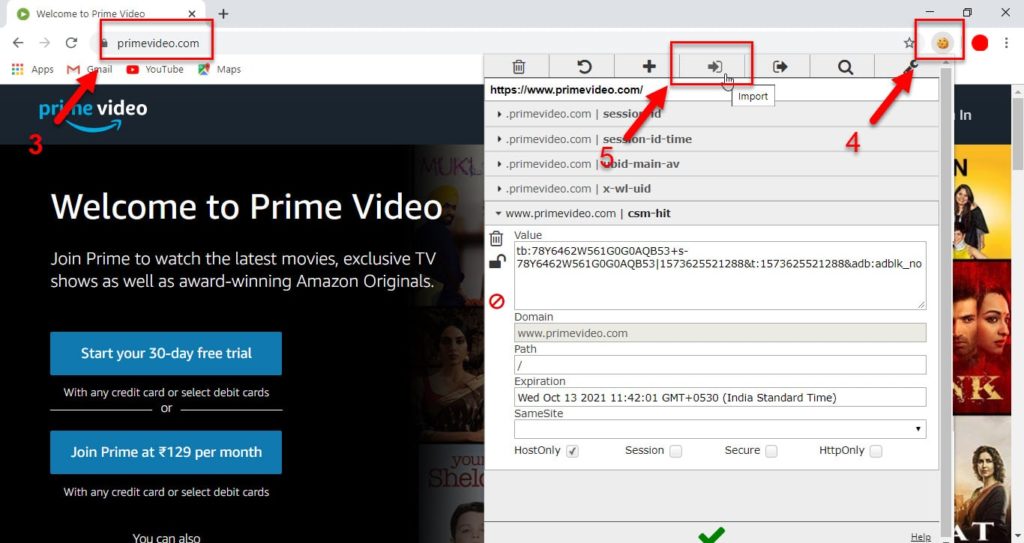 Step 5: Now, click on the import extension option as mentioned in the image and paste copied cookies in the box.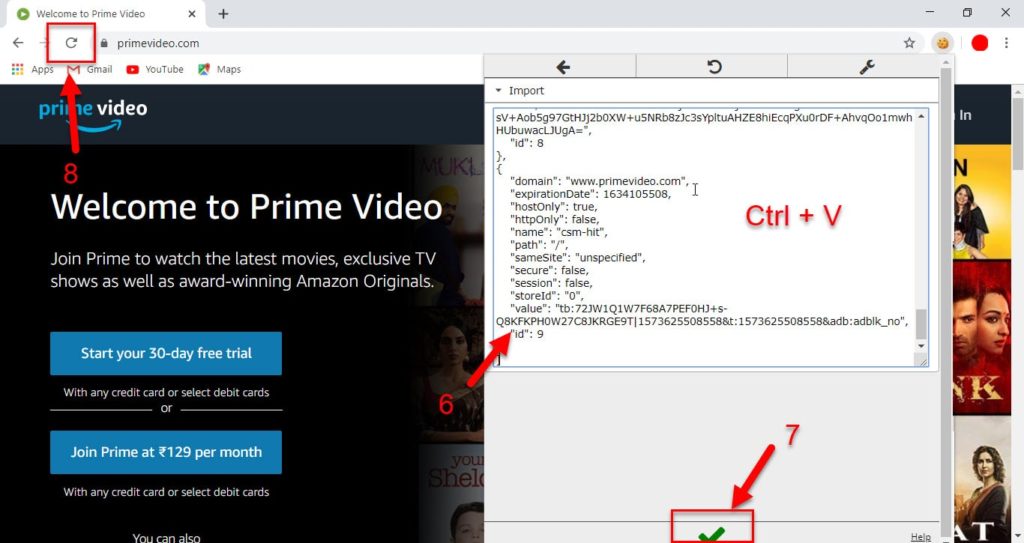 Step 6: Click on the Green symbol (ok) and then refresh the page.
Boom! You will now automatically log in to the Amazon Prime Video premium Account for free. Now enjoy your movies and serials for free. If the cookies not worked, then comment down, and we will update as soon as possible.
If cookies not working on the PC then you can try android by following the method.
But always keep in mind that after use, do not log out from the account!
How to use Amazon Prime Video cookies on a Windows PC
Now, this is the part made for most of you, if you don't know how to use Amazon Prime Video cookies on your PC let me tell you but the first step is that you need to copy all of the above Amazon Prime Video Cookies in Notepad. Now follow the steps below to use the Amazon Prime Video Cookie cookie in your browser to view free Amazon Prime unlimited.
First, you need to open any browser on your PC (recommended by Google).
The next step is to get a cookie extension that will help us use the cookie. You can click the button below to download the editthiscookie extension.
Download Google Chrome's EditThisCookie Extension
Now when the download is complete just double-click Extension and then click Add to Chrome and then click Add extension.
Once you have successfully added the extension to Chrome you now need to open the official Amazon Prime website.
Once you have opened a website link to the EditThisCookies Extension Icon, then click the Import button.
Now you need to copy the Amazon Prime cookie and paste it into the Import and hit the Tick button.
So, now, you just need to refresh the Amazon Prime page and now you're fine. Now you can enjoy Amazon Prime for free and you can watch all your favorite movies, series, etc.
Frequently asked questions about amazon prime video cookies
Is it safe to use amazon prime video cookies?
No, all cookies are not safe, it depends on the type of cookies you are using. Don't worry, these provided cookies are safe and happy to use
Can I get a personal amazon prime video account?
No, these accounts are not personal. Too many users are using this account through cookies.
How to get a amazon prime video account No cookies?
If you want to get an amazon prime video account, read this article for free.
Do we have to pay any kind of money to use this?
Of course not, you don't have to pay any kind of money to use it. But I recommend that you buy your own account on amazon prime video
What happened when I joked about cookies from any account?
Your IP is prohibited to access this website and you cannot obtain more cookies.
If you want to get your personal amazon prime video account or access it through a mobile phone, also see this other tutorial.
[
{
"domain": "primevideo.com",
"hostOnly": false,
"httpOnly": false,
"name": "clSharedContext",
"path": "/",
"sameSite": "no_restriction",
"secure": false,
"session": true,
"storeId": "0",
"value": "c132113b-a751-4a70-bf69-d54da8894264",
"id": 1
},
{
"domain": "primevideo.com",
"expirationDate": 1574278713.804283,
"hostOnly": false,
"httpOnly": false,
"name": "flwssn",
"path": "/",
"sameSite": "no_restriction",
"secure": false,
"session": false,
"storeId": "0",
"value": "eed5858d-2cba-4949-8769-5a851ef45765",
"id": 2
},
{
"domain": "primevideo.com",
"expirationDate": 1574275091.274259,
"hostOnly": false,
"httpOnly": false,
"name": "lhpuuidh-browse-TBIYXIE2TND7TG7IVJIHFQFDJI",
"path": "/",
"sameSite": "no_restriction",
"secure": false,
"session": false,
"storeId": "0",
"value": "IN%3AZH-IN%3A48509f8a-323d-4309-ad3d-1a35f1c533df_ROOT",
"id": 3
},
Now watch any prime video without paying for it 🙂